The Modern look makes these sheets probably one of our most popular products. Standing seam refers to the "traditional seamed" installation type.
The need for innovation made us design a product featuring numerous improvements compared to historical standing seam roofs (often also referred to as zinc roofs).
Thanks to our dedicated snap lock system, the panels can be fixed quickly and firmly without the need for crimping tools. Mounting holes along the seam mean that screws are covered by the adjacent panel, giving your roof a bespoke look without any visible fixings. Our range of coatings and colours, unmatched in the industry for its variations and warranties, gives our roof the special touch that attracts the attention of designers and architects.
We highly recommend our Retro25 Panels with a PLADUR®RALMAT (often called WRINKLEMAT) coating, as it is one of the longest lasting, highly durable coatings. In combination with the Retro25 Panels, this is the most cost effective standing seam roof.
The advantage of all our panels  is their versatility. Used for renovation projects of historical buildings, barn conversions as well as for construction of modern houses and apartment buildings.
It may also be used as wall cladding acting as a unique facade finish.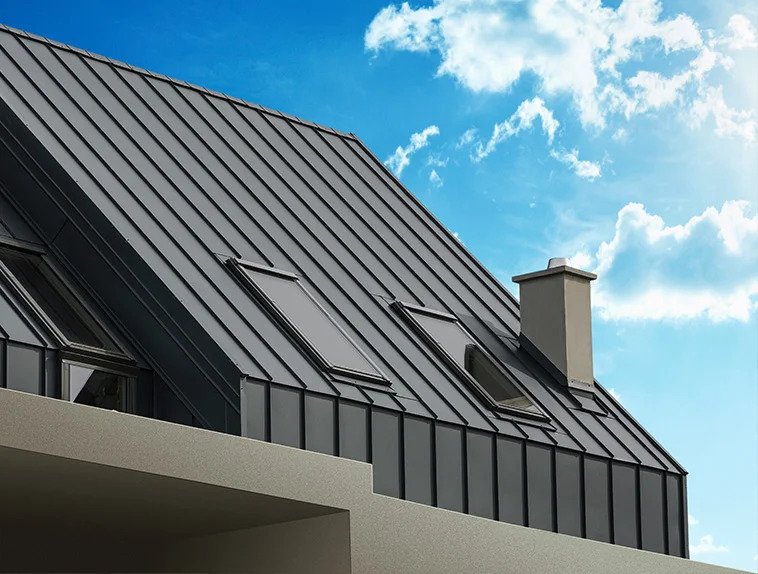 Discover products from the standing seam category
Depending on the planned effect, you can emphasise the traditional style of a building, or accentuate its innovative character. Classic design, straightforward forms, lightness and ease of assembly make our standing seam panels very popular as an architectural solutions for roofing and facade cladding. They are perfect for roofs with a lower pitch and for creating a unique look. However, they may also be used for roofs with steep slopes.
Quick assembly of roof and facade panels without specialist knowledge.
Our panels with a snap lock seam have the advantage of being much easier and faster to install than traditional panels that are often rolled on site. Standing seam sheets with our specially designed snap lock allow for a quick and reliable joining of panels without the need for additional crimping, while maintaining high strengths.
Planners and Architects love Standing Seam
With its rising popularity, a standing seam roof can give your project that extra  design touch that is missing with so many buildings nowadays. This makes  standing seam roofs a popular solution for both planners and architects .
Standard delivery time is 7 – 30 days from payment day, depending on the order size and availability.